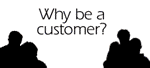 Who is Eligible for Membership?
Permanent and Retired employees of the United States Postal Service and all Federal Agencies, living or working in zip codes starting with 704, 707, 708.
Immediate family members of United States Postal and Federal Employees, Postal and Federal Retirees or Postal Credit Union Employees, related by blood or adoption.
"Immediate family" –is defined as the member's spouse; parents; grandparent; the member's children; the spouse of the member's children; grandchild; the parents of his spouse; the member's brother and their spouses; the member's sisters and their spouses; stepparents; stepchildren; stepsiblings; and adoptive relationships consistent with the previously stated relationships.
What is required for Membership?
Valid Identification with current address (Driver's License, Passport, Motor Vehicle I.D, etc)
Social Security Card, Birth Certificate
A copy of Federal badge or Proof of retirement or
All accounts that are opened for minors as an immediate family member require to following:
A letter from the primary account holder allowing or requesting him/her to become a member
A copy of primary account holder's Federal badge or Proof of retirement or
A copy of the minor's driver's license, state I.D., social security card and birth certificate